----> Bichon Frise puppy availability <----
I will ONLY take deposits on puppies from
potential owners who have NO Preference on sex.
**The balance of your Bichon puppy
is
due in cash ONLY at the time of pick up **
I have 2 adult females for adoption
I have a litter born Dec. 31
This litter is reserved
Both parents heavy Champion bloodlines
and OFA CHIC certified health tested.
Father imported from Europe
Mother import from Europe
Price--- Males $1325 (0 available)
Price-- Females $1425 (0 available)
DEPOSITS-- $200 TO RESERVE/HOLD
I have updated prices and deposits
Sold as pets only to protect the pedigree
reserved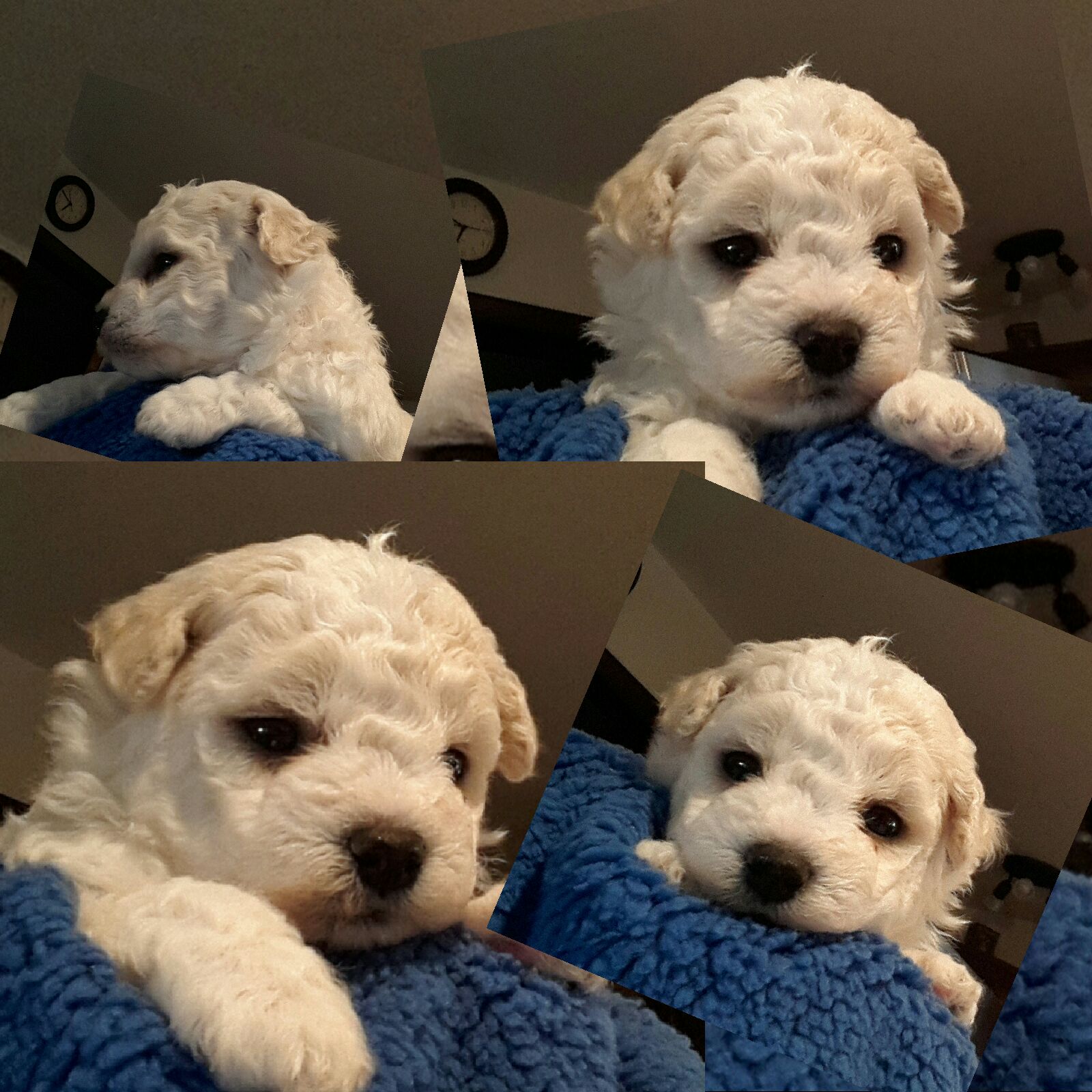 Male below is reserved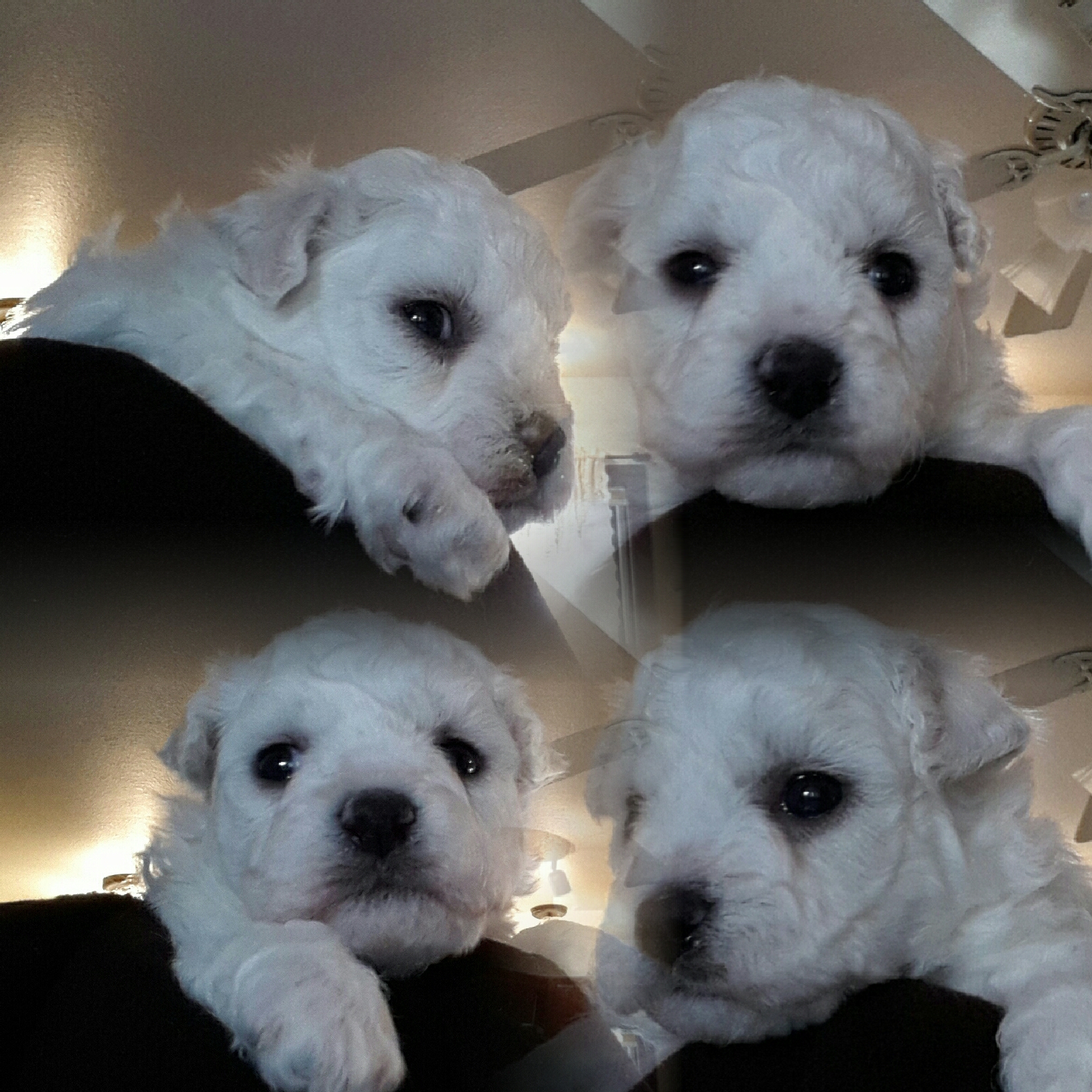 Male below is reserved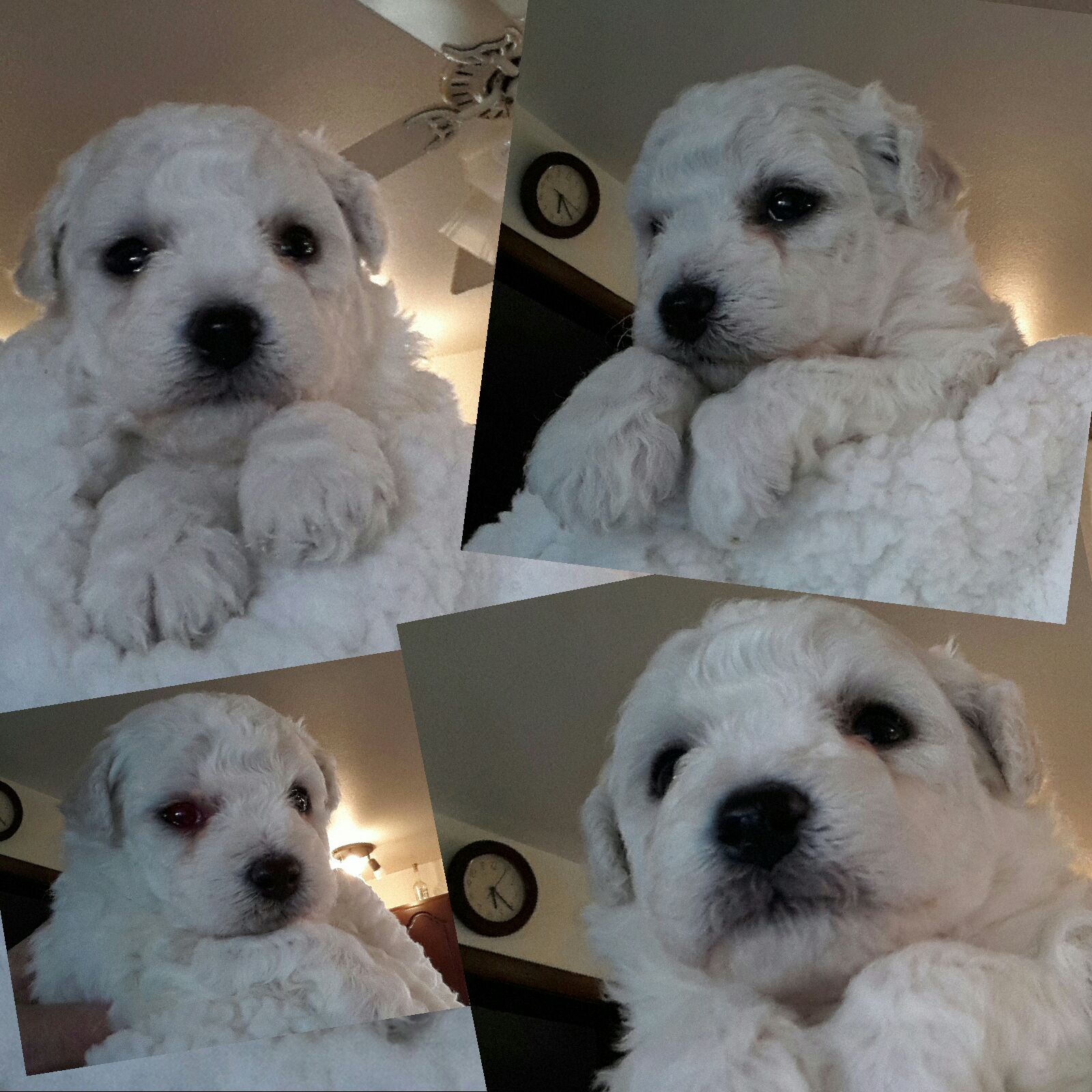 The puppy above is reserved.
The Bichons pictured below are for viewing only and are from previous litters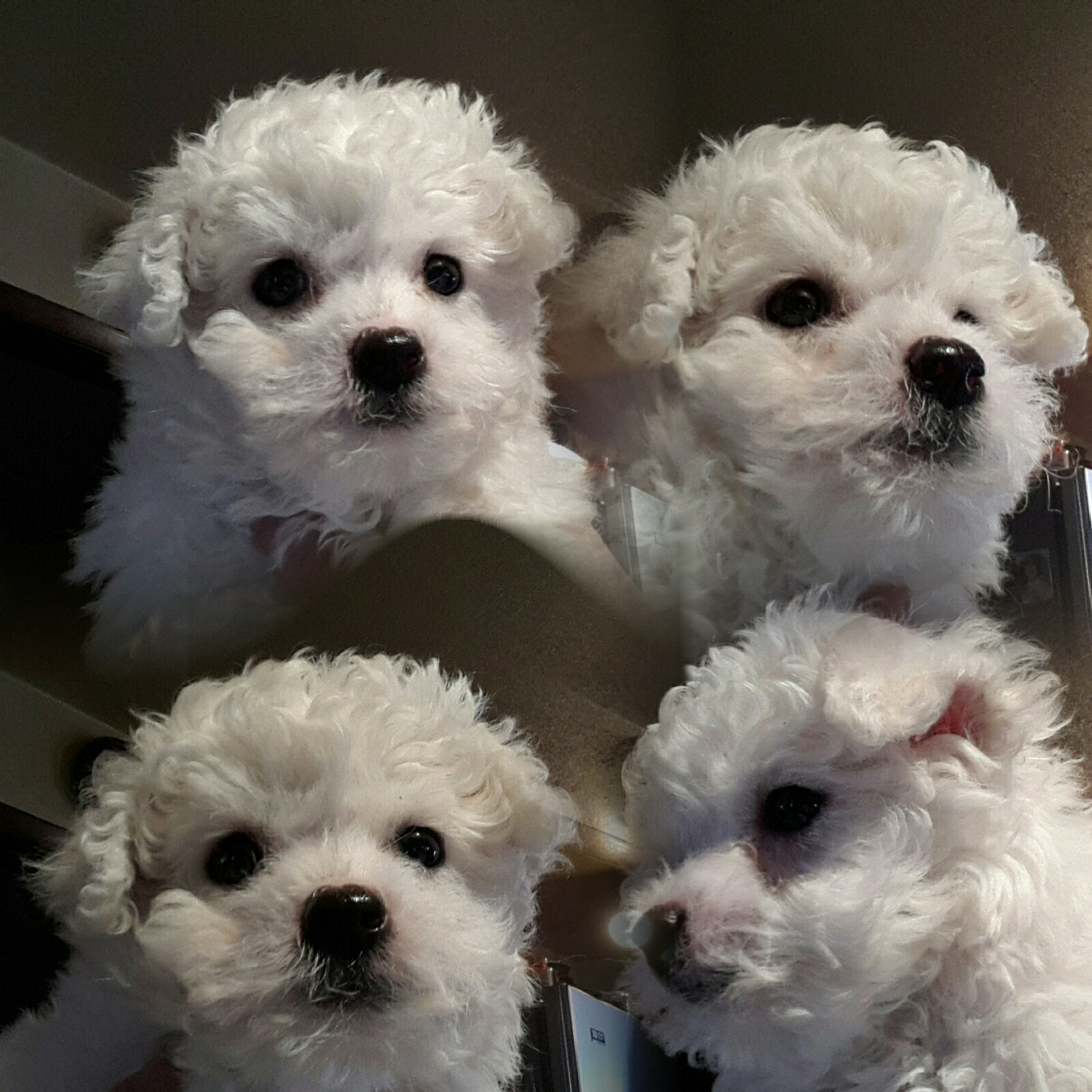 (Reserved)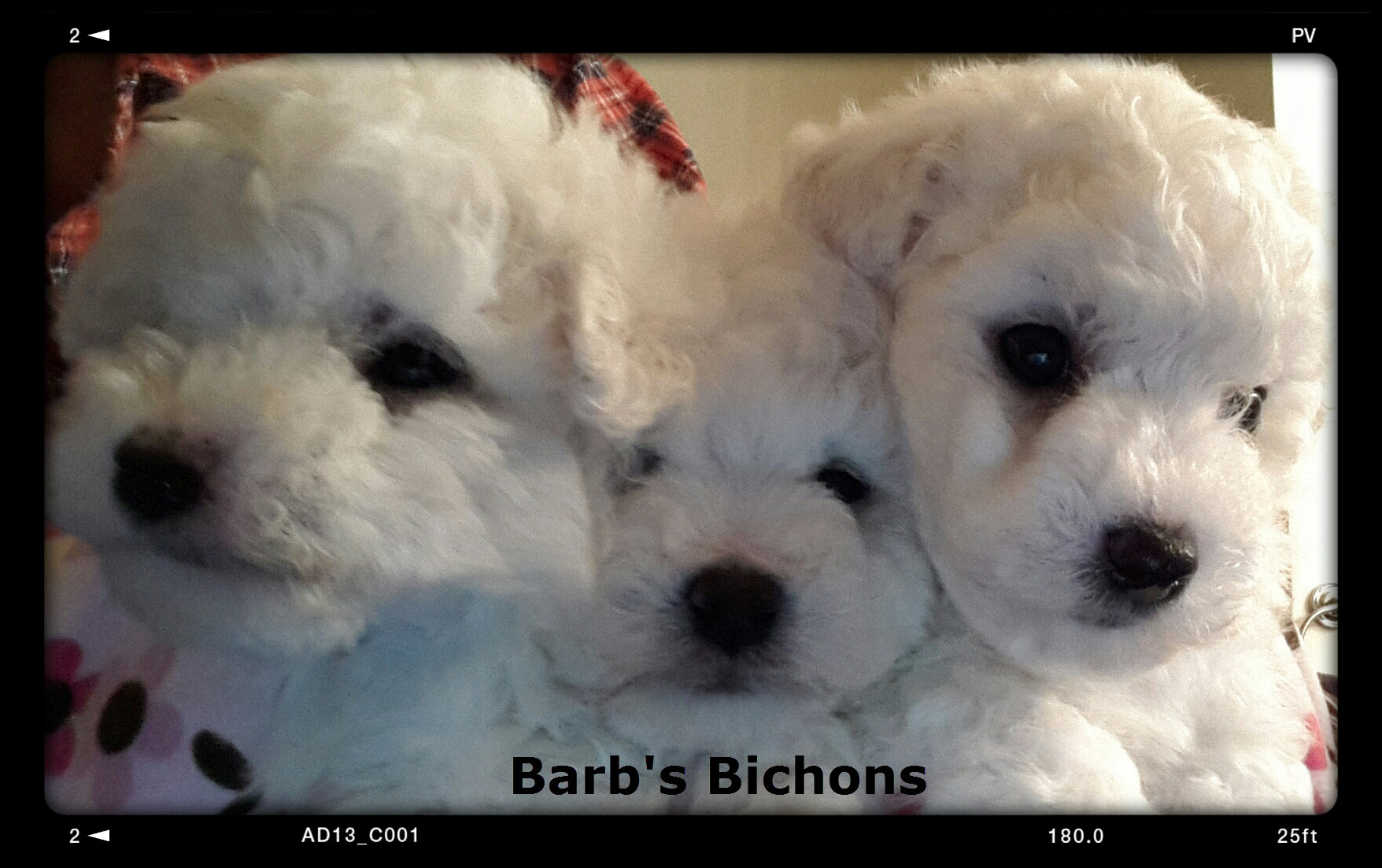 Reserved (below)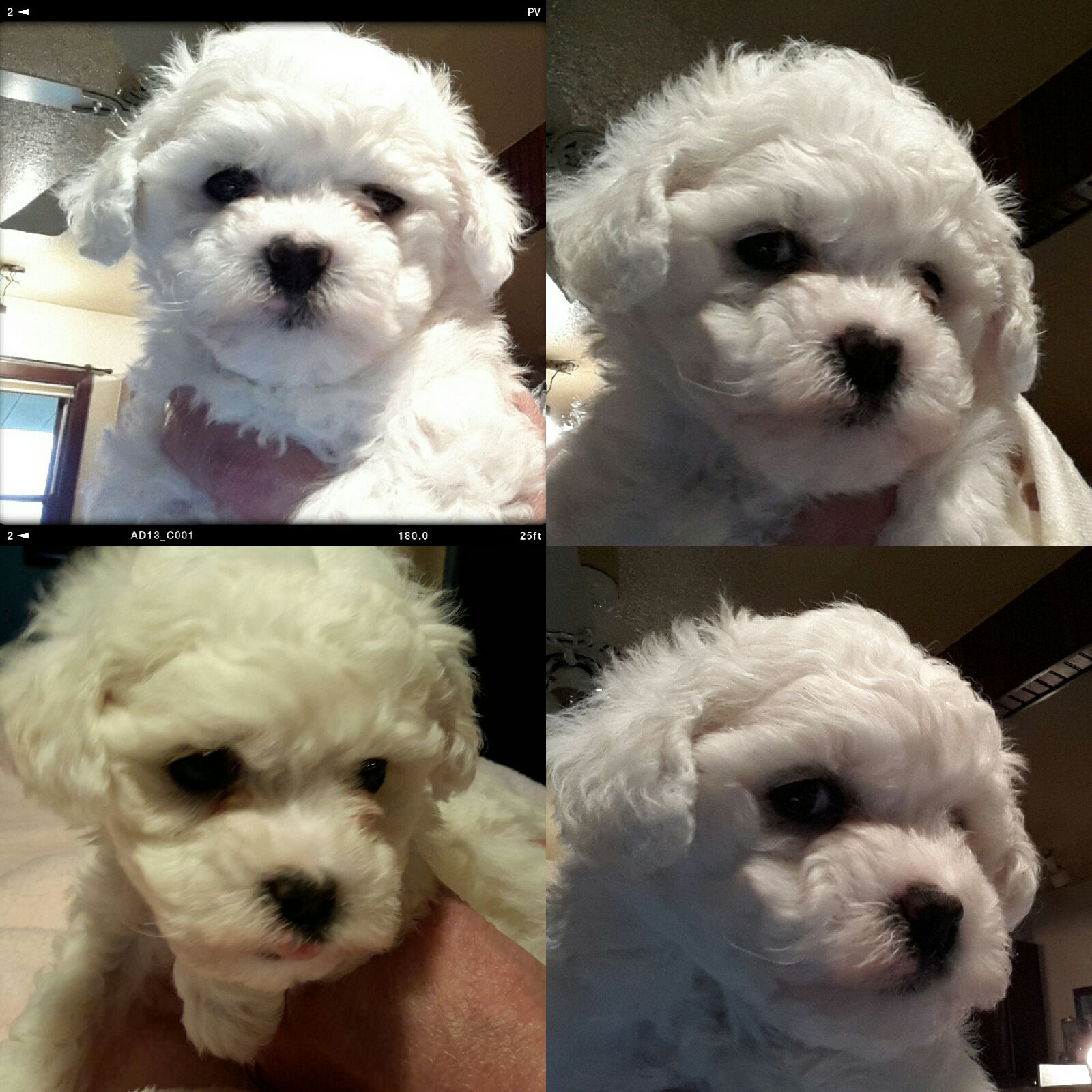 All puppies are sold with AKC Limited Registration.
I am an AKC Bred with HEART participant meaning my dogs have passed the required testing through the OFA and will be on your papers.
pet only AKC Limited Registration
Pictures of the Summer puppies
Puppies MUST be picked up within the week they
are 8 weeks of age unless I feel they need
to remain here longer which I have only done
one time in 20 years of raising Bichons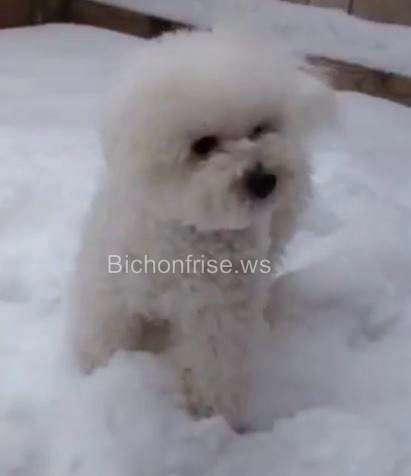 Ch. Royal Frise Just For Love
Love is a very well bred Bichon and posesses
4 generations of Champion parents from
all over the world.
All parents are OFA tested.(eyes, knees, hips)
Ch. sired or Champion grand-sired
Thanks for visiting my Bichon Frise website. My name is Barb (Barb's Bichons) and I have been raising ONLY Bichon Frise and puppies for close to 20 years. I have learned lots of things about Bichons over the years.
We have Bichon Frise puppies in Illinois. Puppies are either AKC Champion sired or Ch. Grandsired. My breeding Bichons have been health tested...eyes, hips, and patellas (knees). Eye testing can be done anytime after the dogs eyes are open. For Patella testing, the Bichon must be at least 12 months of age. Hip testing is not available til the dog is 24 months or more.
My Bichon Frise puppies are not pet shop priced as I do not raise pet store Bichons that come from puppy mills. If you are looking for a healthy well adjusted Bichon Frise puppy then you have come to the right place.
New litter due. They would be ready to leave here at 8 weeks of age and no sooner. (don't even ask because it is law) Inquiries and visitors welcome.
Below is a video of a Bichon Frise puppy in Illinois.
My Bichon dogs and Bichon Frise puppies live inside of my house and not in a kennel. We raise them for conformation and temperment. The pups are well socialized and started on their crate training before they leave here. We administer our own shots starting at 8 weeks and also de-worm on a regular basis. You will receive the puppy's health record,puppy kit. I require you to take the pup to your own vet for a health check within 72 hours unless there is a reason that you can't. (holiday or whatever) If I have to ship the puppy you will receive the health certificate from my vet required for flying. Shipping is extra. (I charge actual shipping fees)but i also pay someone $100 to drive to the airport. I try to use United Airlines and Delta, as we feel it is the safest way to ship your Bichon Frise puppy. Sorry, we do not ship to Hawaii.
Information on my Bichon dogs and puppies
My Bichon Frise puppies are AKC Registered from Quality Champion bloodlines
All of my Bichon Frise puppies are Crate Trained
Bichon Frise puppies ready at 8 weeks of age
All of my Bichons Frise puppies come with a health guarantee.
MY male Bichon Frise stud dogs are DNA tested by the AKC
My Bichon Frise come from top quality Champion bloodlines, if not Champion sired
Bichon Frise is pronounced Bee-shawn-Free-say
We offer full support with your Bichon puppy.
If you have questions on your Bichon, whether you purchased from us or not,
please call we are into natural and holistic foods and flea control and if you
have a question, please let me know.
My Bichon Frise look like Bichons (not Poodles) sorry Poodle people!!
My Bichons are permanently identified with microchips or tattoos
My breeding Bichon Frise have been OFA'd and CERF'd tested for genetic disorders
---
Best Breed for people with allergies or asthma
One thing for sure is they are the best breed for people that have allergies or asthma.Bichons also make excellent therapy dogs and get along with young children as well as the elderly. In fact one of my retired Bichons turned therapy dog after she left here. She is pictured below.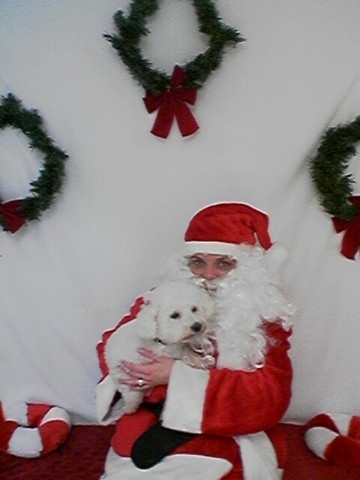 Questions about Bichon Frise
Things to ask the potential breeder.
1. First thing i would ask for is the pedigree to make sure they
are not breeding Brothers and Sisters as another breeder does. Not ethical and definitely not good practice whether they are health tested or not.
If you need help reading a Bichon pedigree, i can help.